Bullying is a major problem in our schools, workplaces, homes, and over the Internet. Over the month of February, 
CKNW
 aims to raise awareness of these issues through their "Pink Shirt Day" campaign. Ma Mawi Wi Chi Itata wants to help.
How Ma Mawi Wi Chi Itata can help:
Ma Mawi Wi Chi Itata knows the harm bullying can cause individuals. We hope to create online awareness over the month of February by sharing resources about various types of bullying, where bullying happens, and what we can do to put an end to it. Please visit our community sites for free anti-bullying resources.
Ma Mawi Wi Chi Itata's Pink Shirt Day Contest: 
In support of #PinkShirtDay on FEB 24, Ma Mawi Wi Chi Itata encourages families to share pictures of their families wearing pink shirts on Facebook, Twitter and Instagram using the hashtag #MaMawiWearsPink. The winner will be chosen to win a Ma Mawi gift basket packed full of Ma Mawi gear!
How Pink Shirt Day Began: 
"David Shepherd, Travis Price and their teenage friends organized a high-school protest to wear pink in sympathy with a Grade 9 boy who was being bullied [for wearing a pink shirt]…[They] took a stand against bullying when they protested against the harassment of a new Grade 9 student by distributing pink T-shirts to all the boys in their school. 'I learned that two people can come up with an idea, run with it, and it can do wonders,' says Mr. Price, 17, who organized the pink protest. 'Finally, someone stood up for a weaker kid.' So Mr. Shepherd and some other headed off to a discount store and bought 50 pink tank tops. They sent out message to schoolmates that night, and the next morning they hauled the shirts to school in a plastic bag. As they stood in the foyer handing outthe shirts, the bullied boy walked in. His face spoke volumes. 'It looked like a huge weight was lifted off his shoulders,' Mr. Price recalled. The bullies were never heard from again."
Anti-Bullying Resources
Educator Resources      |      Parent Resources      |      Student Resources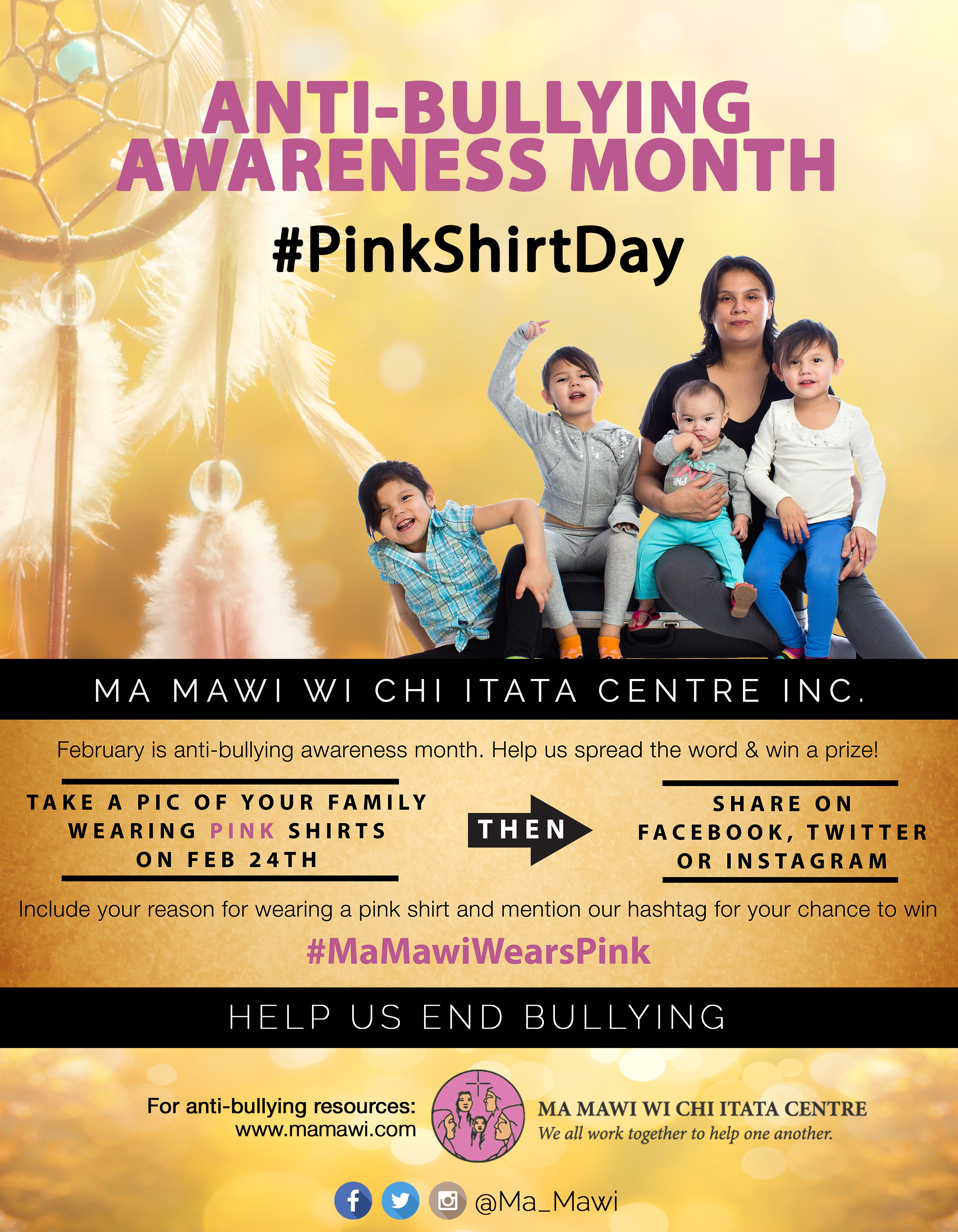 For more information on our anti-bullying awareness campaign please contact:
Stewart Racette
Events & Communications Intern
445 King Street
Winnipeg, MB R2W 2CS
P: 204-925-0329 | F: 204-946-5046