At Ma Mawi Wi Chi Itata, our vision is to have a safe, healthy, happy and interdependent community. The work we've done, and continue to do, will always have this vision in mind. Having celebrated 35 years in operation in 2019, we've seen, dealt with and accomplished a lot over the years; but we had never experienced the unprecedented change that we've all undergone during these last 16 months.
Prior to the pandemic, many of our community care programs centred around community visits to our sites. People would drop in for a meal, socialize or access other programs and resources. After needing to shut our doors to in-person programming, Ma Mawi Wi Chi Itata needed to address the gap and loss of resources to the community as a result. It was imperative that we created new opportunities to support our community.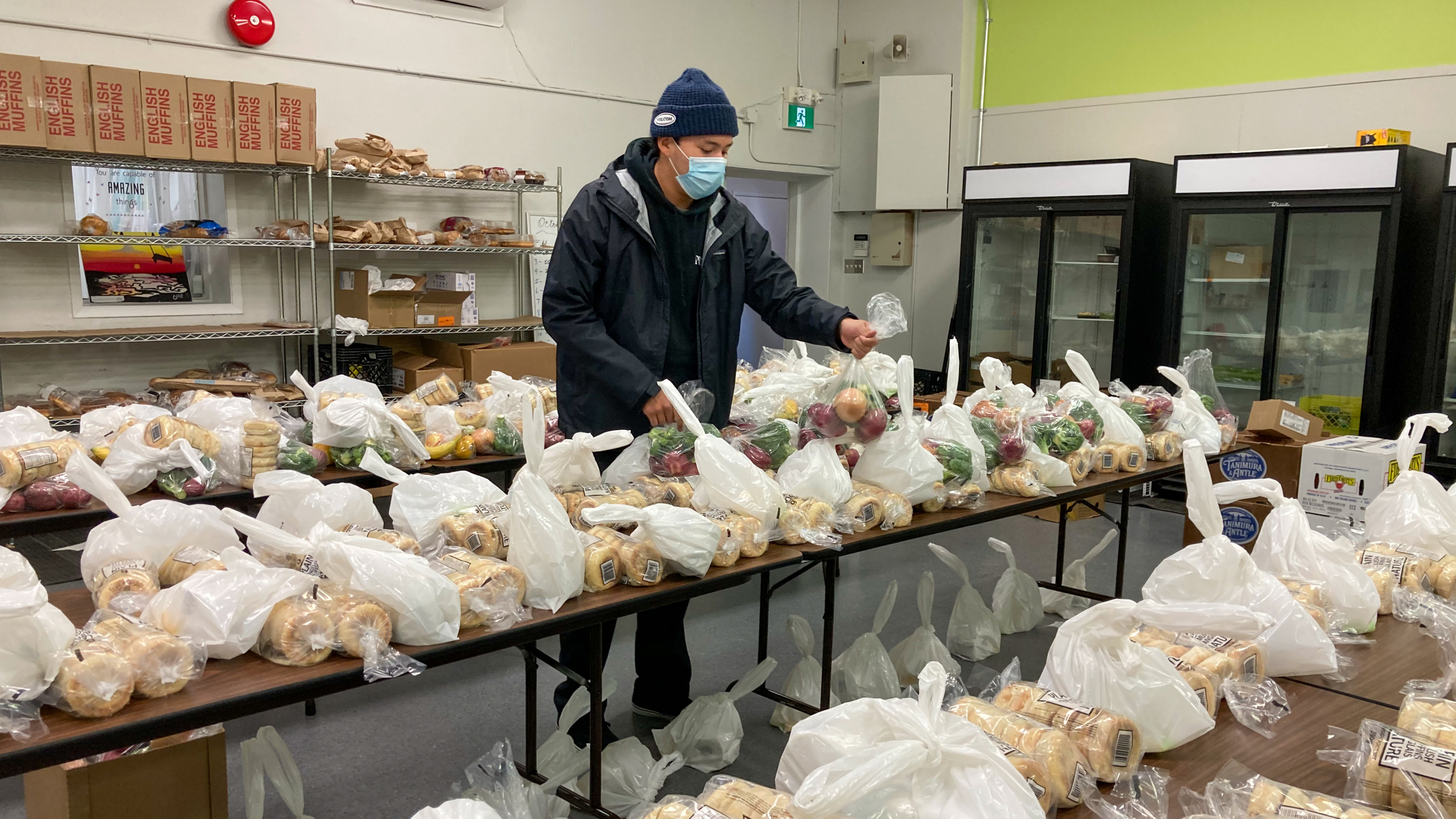 Joanne Stranger, Team Leader of the Food Kit Program, says Ma Mawi Wi Chi Itata is always forward-thinking and looking to support whatever changes are necessary to overcome the challenges that our community may face. The Food Kit Program today, "really started from other Ma Mawi Wi Chi Itata programs coming together," she says.
To make this all possible, Ma Mawi Wi Chi Itata made changes to our existing programming and converted our care site locations. The Spence Neighbourhood Care Site turned into a call centre for intake applications; while the Larsen Community Care Site was transformed into a Food Kit distribution centre.
Launched in March of 2020, the Food Kit Program is primarily meant to address food and income insecurity that was magnified by the pandemic, but the Program has also addressed other needs of support that were no longer available in their traditional forms because of the pandemic.
In addition to helping with food insecurity, the Food Kit Program is also helping community members develop healthy eating habits as all kits adhere to the Canadian Food Guidelines. The call centre and delivery portion of the program also provide needed outreach. "It's an opportunity for us to catch up with community members," Joanne says.
Of course, this Program would not be possible without the generous partnerships Ma Mawi Wi Chi Itata has developed. The Government of Manitoba's Home Nutrition and Learning Program; Save-On Foods' Food Mesh; Red River Co-Op's Leftovers Program; and Harvest Manitoba are just a few funders and donors that this program would not be possible without. Ma Mawi Wi Chi Itata is continually thrilled to be working in partnership with these great people and organizations.
Joanne would also like to acknowledge the outstanding contributions from volunteers and staff members. "We wouldn't be able to keep up without all the dedicated staff and volunteers," she said. "We have a really good team at Larsen. It took us a bit to get to where we're at, but things have gotten easier and we're all unified and on the same page. Everything is going smoothly," she added.
And during the past 16 months, Ma Mawi Wi Chi Itata achieved a lot! Since March of 2020, staff and volunteers have packed and delivered well over 180,000 food hampers.
Ultimately, it's amazing to see how grateful the community is as Joanne reflects on the feedback she's received. "Kids are always so excited to see us when we pull up. Community members bless us and praise us. They really don't know what they'd do without this program," she said. "It is personally very meaningful for each of us as we draw our strength from this work and from these ongoing relationships. We work from the heart," Joanne says.
How you can help
Volunteers are needed Monday-Saturday starting at noon to deliver food kits. Driver's license and access to your own vehicle is required.

Please provide your name, contact information and availability.

We are graciously always accepting donations for this and other programs. To donate, please visit www.mamawi.com/donate
A Special Thanks to our Funders:
Home Nutrition and Learning Program – Province
National Association of Friendship Centres
MMF
Winnipeg Foundation
Foodrescue.ca
Winnipeg Indigenous Friendship Centre
City of Winnipeg
Government of Canada
Government of Manitoba
Winnipeg Harvest
Breakfast Club of Canada
End Homelessness Winnipeg
United Way Winnipeg
Chalmers Neighbourhood Renewal Corporation
Anonymous Foundation